Cookies (or trackers to be more exact) are text files that are downloaded into a website browser on a user's computer. They save data relating to the visit of a website, with the objective of improving its ergonomics. A cookie is made up of data concerning the lifespan of a text file, but also of a number generated at random, the purpose of which is for it to be recognized by your computer.


As a rule, the storage of cookies is anonymized. Certain types of cookies are essential for the proper functioning of a WebSelf site. These are therefore mandatory for your visitors. However, other types of cookies may or may not be accepted by your visitors.


Here are the 4 types of cookies found at Webself:
Essential cookies
These cookies allow basic functions such as security, identity verification and network management. These cookies cannot be deactivated.
Marketing cookies
These cookies are used to track the effectiveness of advertising in order to provide a more relevant service and serve better advertisements tailored to your interests.
Functional cookies
These cookies collect data to remember user choices in order to improve and provide a more personalized experience.
Analytical cookies
These cookies help us understand how visitors interact with our website, discover errors and provide better overall analysis.
The cookie consent banner:
The cookie notice that is shown on websites and some apps on the user's first visit.

Webself offers you a feature that allows you to display or not a consent banner to your visitors. Since April 1, 2021, European websites must clearly inform Internet users about the purpose of cookies, these tracers for storing user browsing data.
To access this feature, on your site editor, click on Settings at the bottom left corner:

Click on then on Confidentiality and cookies.

Click on the ¨No¨ button to enable the feature, a standard cookie consent banner will appear on a page of your site to request consent from visitors.


Note: This cookie banner may prevent marketing, analytical and performance cookies from being placed by your site before the visitor's consent. However, certain external elements will continue to use cookies (such as code that you have inserted yourself, social applications such as Facebook or even third-party elements that cannot be controlled by WebSelf).


- You can enter custom text in the consent banner. The text of the buttons can also be changed as desired.
- For each of the types of cookies, you can enter a small description text to inform your visitors.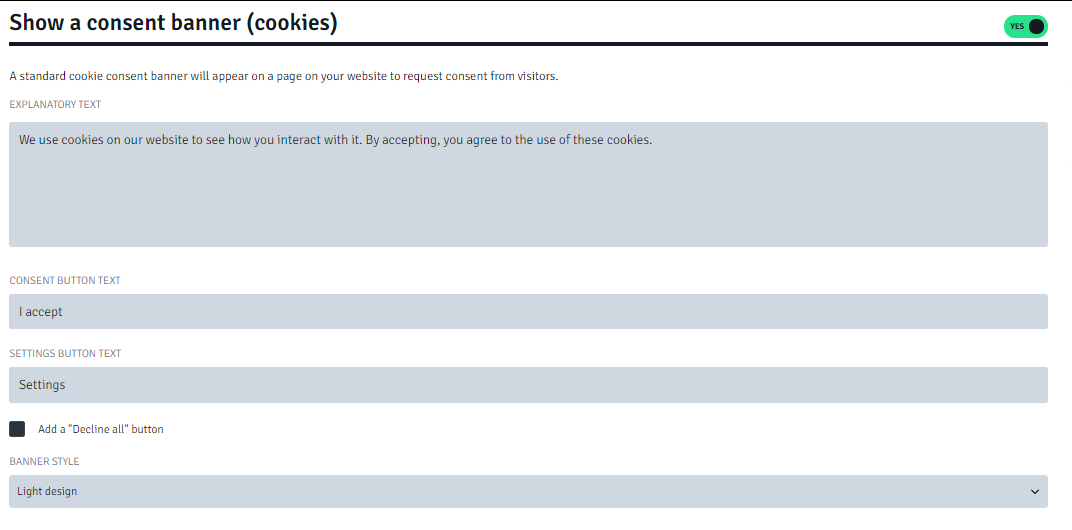 Privacy Policy
You can also choose to display a link to your privacy policy on the consent banner. Click on the ¨No¨ button to enable the feature, and choose whether the link points to a webpage hosted on your site or to an external website.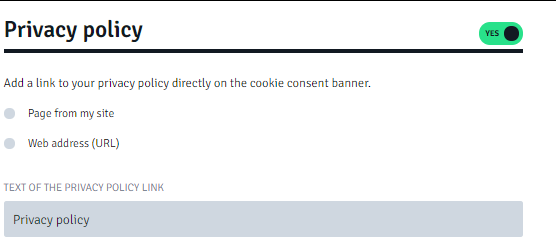 Renewal of visitor consent
If you have made significant changes to your site's privacy and cookie policies, you can ask your visitors again for consent even if they have already accepted your cookies on a previous visit.
Click on Renew Consent 'and then on Save'. When your visitors return to your site, they will be requested to accept the cookies in your website again.

_________________________________________________________________________________________________________________
To know more: https://www.ionos.fr/digitalguide/sites-internet/droit-dinternet/la-directives-europeennes-sur-les-cookies-en-france/