The renewal of your domain name purchased from WebSelf is automatic, however, but it can be cancelled at any time at the Subscriptions tab, ¨Billing and payment¨sub-tab.

To cancel the renewal of your domain name:

1. Log into your Webself account.

2. Go to your avatar at the upper right corner and click on Billing and payment.

3. Click on the gear icon to access the domain information, you have three options: Configure domains, Update my card and Cancel domain.
2. Click on Cancel domain.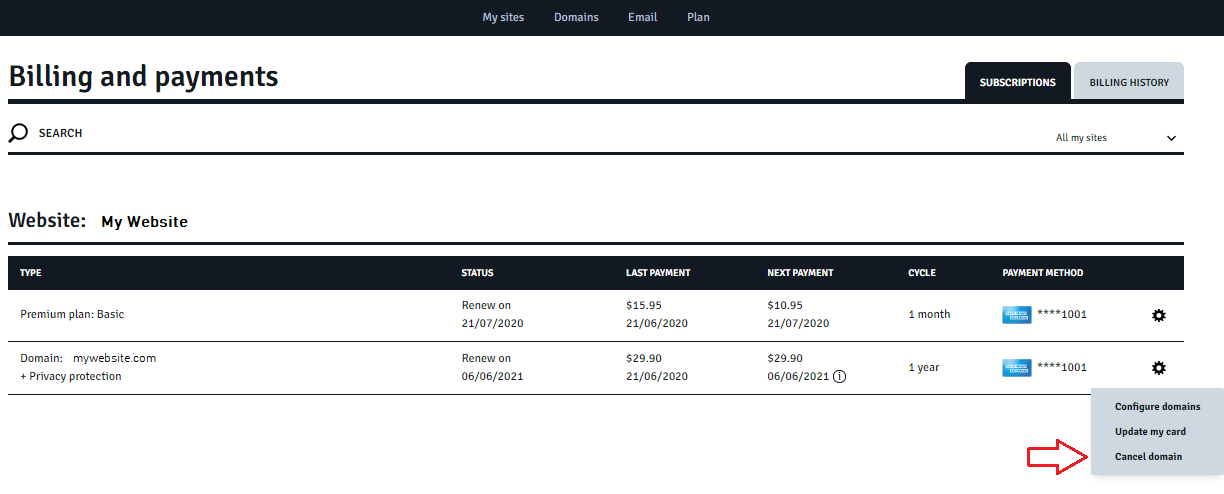 IMPORTANT:

By cancelling your domain the following actions will take place at the end of your paid period:

Your site will display the WebSelf ad.
Your disk space and bandwidth will be 200 MB and 200 MB respectively.
Your site can have no more than 5 pages.
Some features will no longer be available (shop, multilingual, etc.).


Domain cancellation does not automatically disable the domain; at the time of cancellation you will receive the information on the deactivation date.