With your new WebSelf website, you have the convenience to continue using a domain that you already own.

Redirecting a domain name allows you to maintain your current URL address, while forwarding users to WebSelf site.

With WebSelf, you can create a DNS redirect (Domain Name Server) while keeping your domain name with your current host. By using our DNS records in your existing domain settings, visitors will be forwarded to your WebSelf site.

To set up a domain redirect in your Individual Dashboard, click on "Manage".
1. Click on the + ADD A DOMAIN button.
2.- Click on the ¨Connect à domain¨ option.



3. Enter the domain name that you'd like to redirect to WebSelf.
IMPORTANT: When you enter the domain name, do not enter the "www" portion of your URL. For example, if your address is 'www.mysite.fr', only enter 'mysite'. Remember to specify your extension (e.g. .com, .net, .org, .ca, .fr, etc.).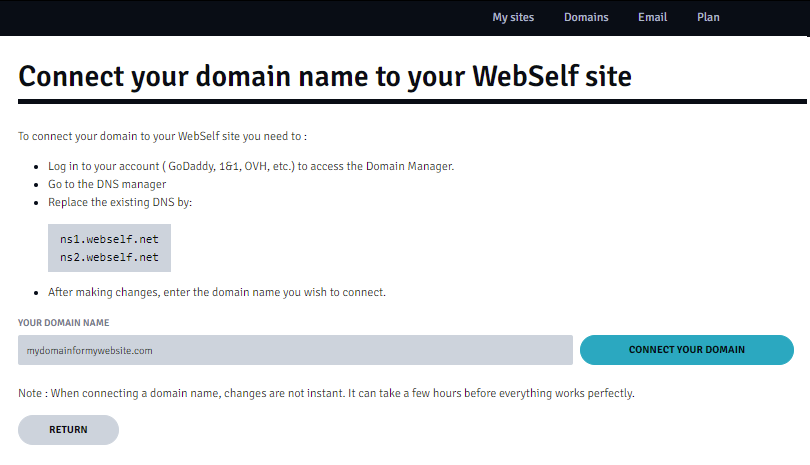 4. Click on "Connect your domain".
5. Select the website, click on ¨OK¨.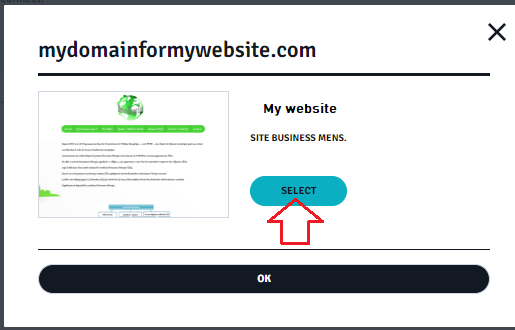 6. Your domain name will show on the table.

7. Login your domain registrar's interface. In the DNS management, indicate WebSelf DNS values:
ns1.webself.net
ns2.webself.net
If you have email accounts linked to the domain name, make sure to set up the "MX Records" to ensure the proper function of your email addresses.

Normally, it takes a period of 24 hours for the set up to take effect.
Note:
Please note that the Domain feature is only available to customers with a premium plan subscription. To learn more about WebSelf Premium Plans, click here.
There is a limited amount of domains that can be redirected to WebSelf.
1 domain

for

Basic,

Pro and eCommerce p

lan subscribers.