The Survey feature allows you to pose a single or multiple-choice question to your visitors. Ask them their opinion on a subject of their choice!

To add a Survey, access the 'Social' section on the left side of the editor, then simply drag the Survey icon to the desired location on your page.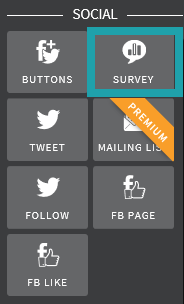 On the Question tab, your options are: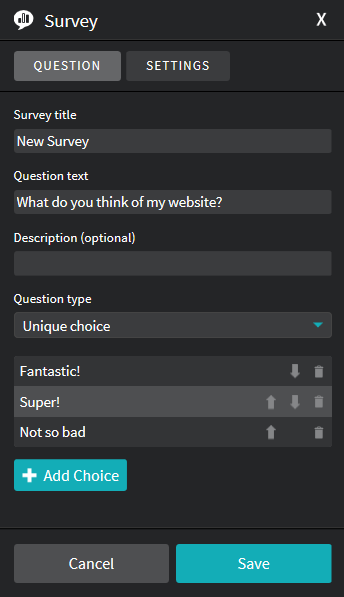 Survey Title: Enter a title for your survey;
Question text: Enter your question;
Description: Describe your survey.
Question type:
Single Response: Displays buttons allowing only one possible answer;
Multiple-choice: Displays check boxes allowing more than one answer.
You can Add, Move, Edit or Delete the default answers.

To Edit an answer, click on the answer, the flashing cursor will appear for editing.
To Edit an answer, click on the answer, and then a flashing cursor will enable editing.
Move an answer, use the arrows.
To Delete an answer, use the Recycle bin.
To Add an answer, click on, 'Add a choice'.
On the Settings tab, you will find the following options: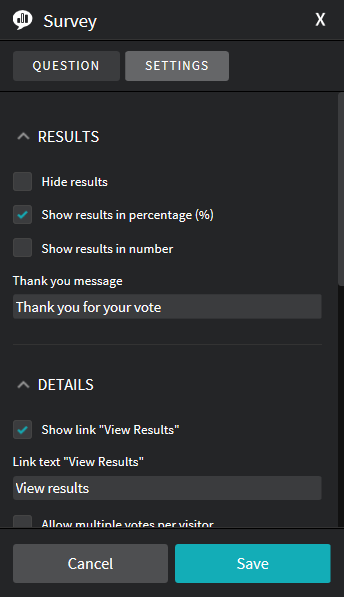 In the Results section:
Hide results: Check to make the results not visible;
Display results in percentage or number;
Thank you message: Customize your thank you message. 
In the Details section:
Show link "View Results" : Check to enable your visitors to see the results;
Modify Link text "View Results" : Otion to change the text;
Allow multiple votes per visitors: Check to give visitors to one vote more than once;
Notification of completed surveys: Check to receive a confirmation email;
Deadline for the survey: Check to select an expiration date.
In the Button style section:
Text button "Vote": Modify the text button and/or left, center, or right alignment;
Button color: Change the color of the button;
Button text color: Change the text button color.
In the Display section:
Random: check for questions to appear randomly;
Display format: choose the number of columns.
Note:
All responses to your form (including email submissions) are stored on the Dashboard via the Data Form tab. Free subscriptions are limited to 25 data per month (it resets each month). Premium Plans data subscribers enjoy unlimited data.