Add a map

A map allows you to display your address—making it easier for your visitors to find you! This is a great addition to an About Us or Contact Us page.

To add a map, access the 'Tools' section on the left side of the editor, then drag & drop the Map icon to the desired location on your page.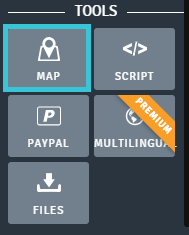 On the Address tab, you can add: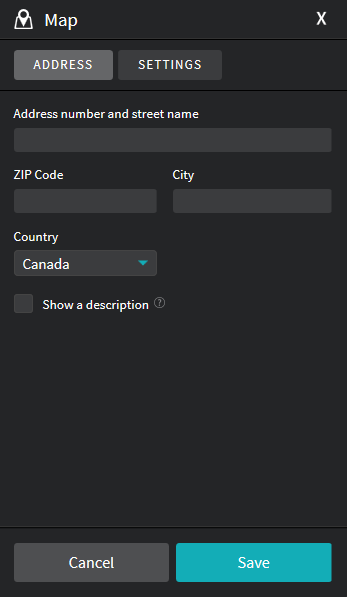 Address number and street name: Enter your address number and street name;
Zip Code: Enter your postal code;
City: Enter your city name;
Country: Select your country from the dropdown list;
Description: Check the box if you want to add a description of your location.
Map settings

There are two sections on the Settings tab to modify your maps: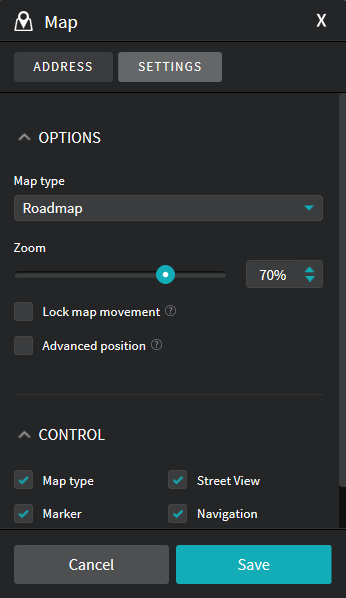 In "Options" section, you can choose to modify:
Map type: This option allows you to choose between a roadmap, satellite or terrain
display.to suit your different activities (i.e. terrain maps for hiking);
Zoom: This option allows you to reduce or enlarge the focus on your map;
Lock map: Check this box to fix your the map on one specific location;
Advanced position: Set your location via latitude and longitude to display map of sites without a physical addresses.
In the "Control" section, you can choose whether to display:
Map type,
Street view
Marker
Navigation
Zoom