The Control Panel is the main page displayed after logging into your WebSelf account. This is the navigation hub where you can manage all the aspects of your account.
You have access to the Control Panel in two ways:
General control panel
Individual control panel
The General Control Panel
If you maintain multiple sites on the same account, you will arrive at a main screen—My Sites—that catalogs all your sites to manage and edit.

To access your account details, please visit the My Account tab on the right side of the Control Panel, here you will be able to change the information related to: Your profile and Billing and payment.

To Log out of the

WebSelf

editor, click on

 Logout

.

To

 D

elete

a site

, acess Your profil

,

then scroll to the Delete site section and click on delete a site.
To Delete your account, you must first delete all the sites you've created.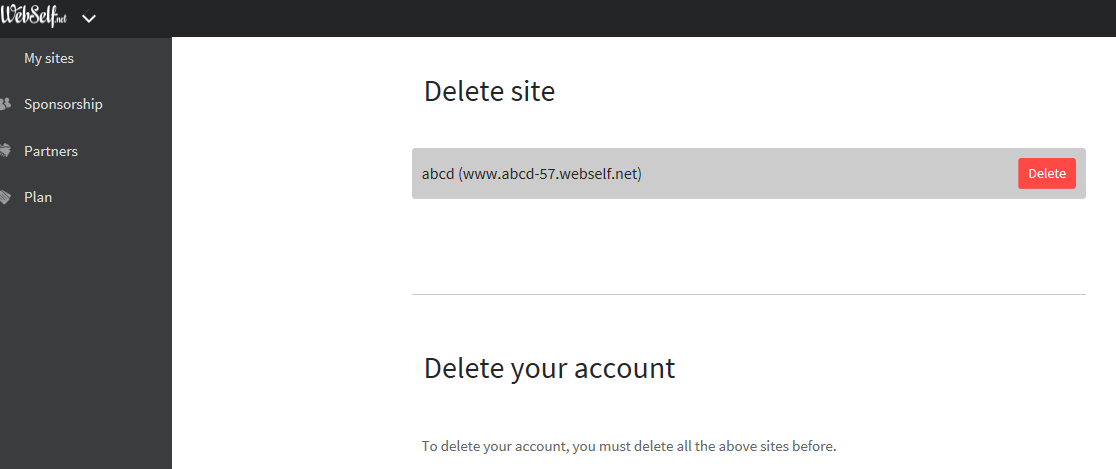 The Individual Control Panel
Click on Manage in the General Control Panel, to access the Individual Control Panel for each of your sites. In this section, you can edit or delete your web site.
Here, you can either Edit or Subscribe your web site.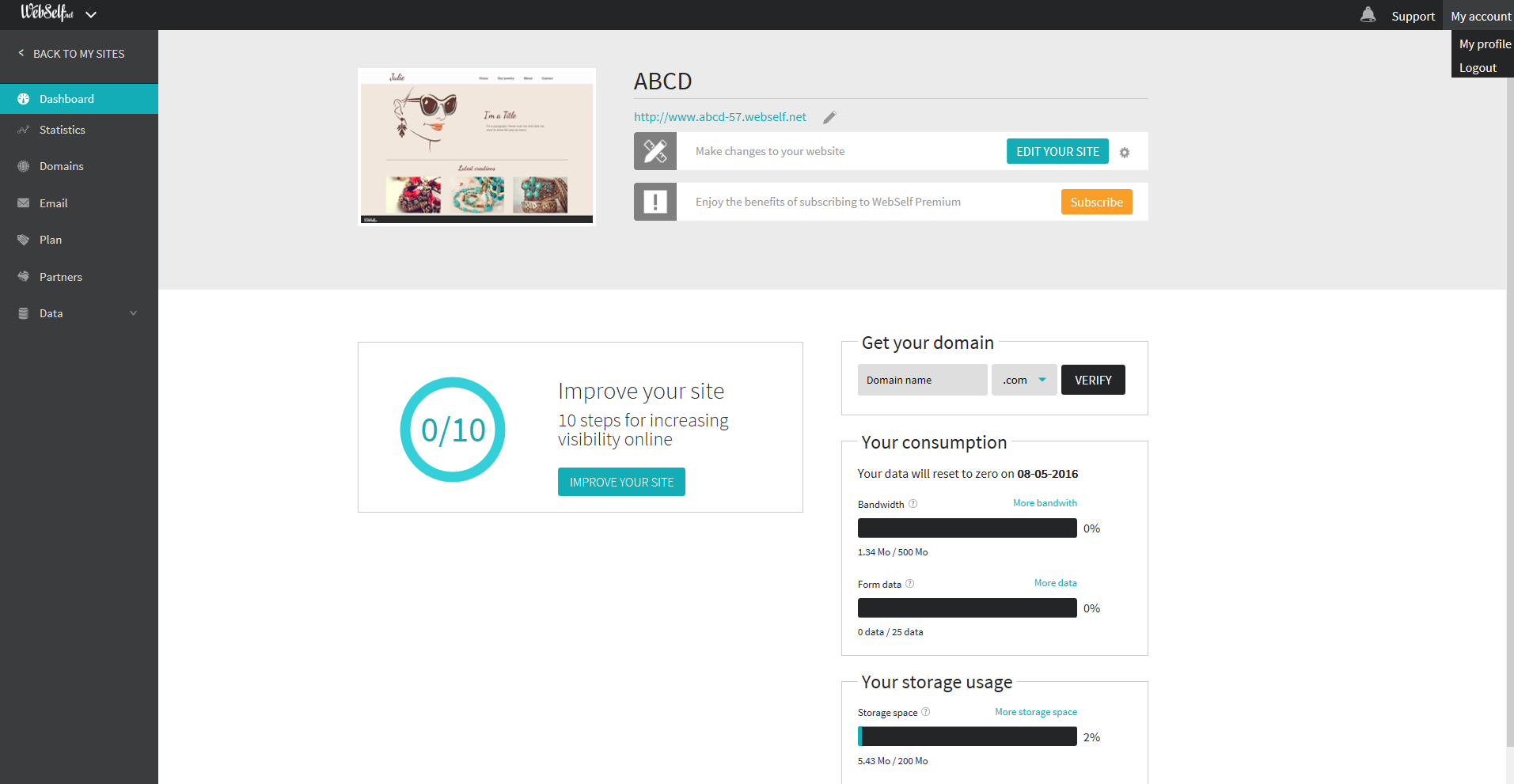 By clicking on Manage, then in the Gear icon, here are your options:
Delete your site
Copy your site
Transfer your site
Delete your site
You can Delete a free website by clicking on Manage in the Individual Control Panel, then on the Gear icon.
Copy your site
You can Copy a site by clicking on Manage in Individual Control Panel, then on the Gear icon.
Note:
The copy is available for Free and Premium sites.
Transfer your site
You can Transfer a site by clicking on Manage in The Individual Control Panel, then on the Gear icon.
Note:
The transfer is available just for Free sites.
In the Individual Control Panel, you also have access to important data related to Statistics, Domains, Email, Consumption, Parthners and Data (Form and Survey).
If you have a Free site, you will be updated with data on the number of pages viewed and visitors to your site.
If you have a Premium account, you benefit from more detailed statistics to
update you about data on Visitors, Viewed pages, Keywords, Countries, Connecting Devices, and Referral Traffic. This data is critical for orienting your communications and marketing strategies for your site.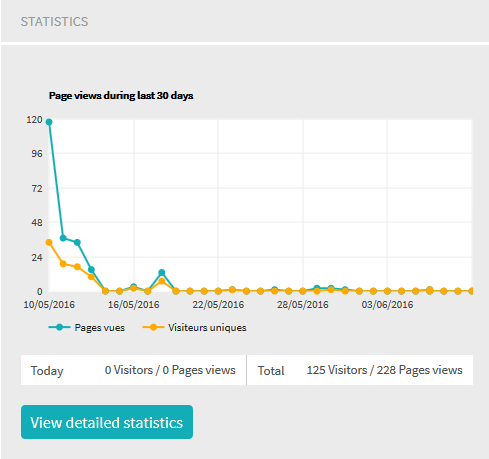 Note:
For more detailed statistics, simply click on View all statistics.



Detailed statistics

The Website statistics tab shows the overall traffic your website receives in a given period of time.
You can choose to view your statistics by Period: Today, yesterday, last seven days, current month, last month or customized. You can also choose to view your statistics for a given period of time, by choosing the option From DD/MM/YYYY To : DD/MM/YYYY.

Pages views and visitors

Page views: represents the total number of pages that visitors looked at on your website.
Visits: represents the number of times the website was visited, without regard to returning visitors.
Unique Visitors: represents the number of actual people that visited your website.
Pages per visit: represents how many Web pages a particular user views on your website.
Bounce Rate: is the percentage of single-page sessions in which the person left your site from the entrance page without interacting with the page.
Average session duration: is the total duration of all sessions (in seconds) / number of sessions.
Main pages viewed
Shows you the most visited pages of your website.

Search terms
Shows you the most popular keywords used on your website.

Visitors per
You can see the results by "country" or "city".

Device categories
You can see the most popular devices being used: Desktop, Mobile,Tablet.

Traffic source

Direct access: users that typed your URL directly into their browser, or who had bookmarked your site.
Organic search (unpaid search): people that use search engines like Google, Yahoo, Bing, etc.
Social: people that use referring social networking like Facebook, Twitter, etc.
Referring Sites
The sites linking back to your website.
Positive for SEO, these sites often bring qualified and steady traffic, people interested in what you have to say.
This indicator also shows sites that have something negative about your site to say.
Bandwidth and storage space available for your site can be checked through the Individual Control Panel. Are you getting close to the limit? No problem, simply upgrade your plan to get more space.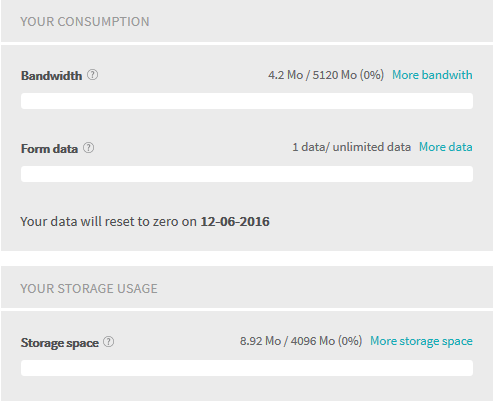 Note:
If you exceed the bandwidth limit, your site will not be visible to the visitor, however, you will always have access to the editor. Bandwidth resets each month.
This section displays key information on your domain(s) name(s). It also allows you to check the availability of a domain name (only offered if you have a domain name with our Pro or Business Plan subscription).
In this section, you can generate email addresses under your domain(s) name(s).
In this section, you can explore a variety of useful tools offered by our partners. These tools are complimentary with your WebSelf site, and can serve valuable in developing your website.
Form
The Form received answers are stored in the Control Panel, via the Form Data tab (in addition to being sent by email). A free site, he is entitled to 25 months of activity data (this resets thereafter), for the Premium plan is unlimited.
      2. Survey
The Survey received answers are stored in the Control Panel, via the Data Survey tab. All plans offer unlimited data.
      3. Contact

Email addresses and other personal information collected via the Mailing list is stored in the Control panel, via the Contact information tab.


Note: This feature is only available with a Premium Plan: Pro or Business.