Definition
A redirection can replace an input URL by an exit URL. You can use redirects to signal search engines that a page address has permanently or temporarily moved (in case of maintenance for example). You can set up 301 (permanent) and 302 (temporary) redirects.

When do you need a redirect
The three most common reasons for using redirects are:

1. You already have a site and your domain is not hosted by WebSelf.
If you have an existing site and just created a new one on WebSelf, the 301 redirect will help you maintain your SEO. Most importantly, you won't lose visitors while redirecting your visitors to your new site. The 302 redirect also redirects the visitor to the new page, but SEO will remain linked to the old non-WebSelf URL.

2. The URL of your page has changed.
If the URL of your page has changed, your visitors will encounter a 404 error page as they access your former URL. To avoid this situation, you can set up a redirect that will automatically send visitors to your new URL.

3. The page has been deleted.
If you have deleted a page, you may choose to send your visitors to another page instead of displaying a 404 error page.

Setting up a redirect
Redirects are easy to set up, but they require planning before implementing.
To set up redirects, you must first enable the 'Expert Settings' from the General section on the Settings Tab.

Once this feature is enable, Redirect will appear on the left column.
Click on 'Redirect' then on 'Add a redirect'. A window will appear to set up a redirect.
These are your options: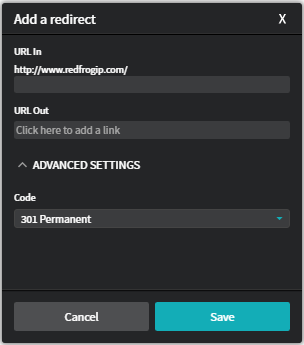 URL in: Enter the URL you want it to redirect.
URL out: Enter the URL you want it to redirect to.
A window will appear, and these are your options:
Web address (URL): To add an External redirect (From an specific page from your site to another site).
Page from my site: To add an Internal redirect (From one page to another page from your site).
In the Advanced Settings, select the Type of redirect:
301 redirect (Permanent).
302 redirect (Temporary).
Note:
It is best to use 301 redirects, especially if you want to conserve your SEO.
Permanent 301 redirects are set up by default, but you can always change this to a 302 Temporary redirect.