Add an image
You can add an image in two ways:

By dragging the image from the left side of the editor to the desired location in your page. The available areas for your element will then be displayed as a window.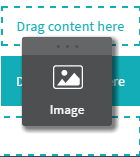 By left-clicking directly in areas showing the legend "Click here to add content"
You can either load a new image from your computer or use an image from the library.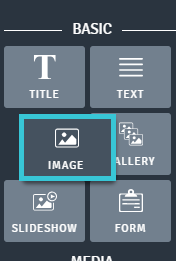 Add a link
Hover your cursor over the Link icon on the top of the image, and a window will appear. You can choose to add a link to:
an external site;
a page of my site;
an email address;
a document;
a phone number.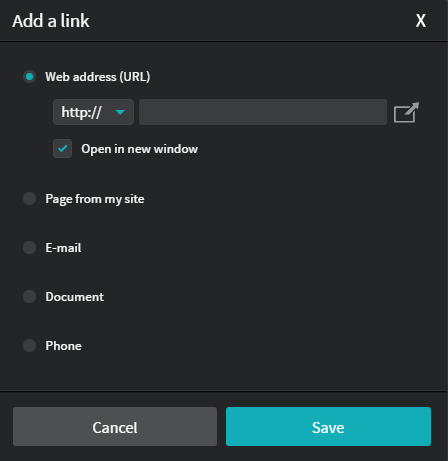 Add a caption
Hover over the Caption icon that appears on the top of the image, a window will open; you can choose to modify the:
Title: Enter a title for your image;
Description: Enter a brief description of your image;
Position: Place the text at the top or bottom of the image;
Align: Move your text to the left, center or right of the image;
Display: Display text on the image and its enlargement or on the image only;
Rollover: Create a text rollover effect as you hover the cursor over the image.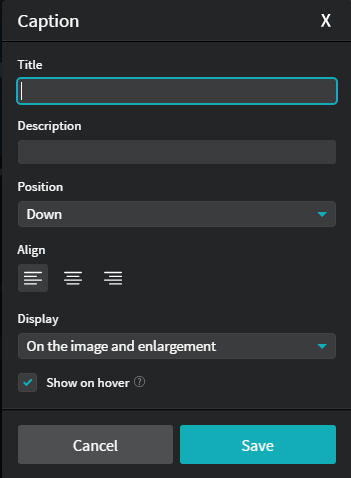 To change the name of your image, click on the Pencil icon.
In the Options section, you can choose to:
To maintain the aspect ratio: Check the box to keep the same dimensions of your original picture;
To enlarge the image with a click: Check the box to allow the image to be enlarged;
To add to media page: Check the box to include the image in your media.
To add Alt Text: Briefly describe the details of your image; this feature will help boost your site's SEO.

Change the background image of a Zone

In the Background section, we do not offer free images that are large enough to go to this location.

If you need an image that is in a background, you must first save the image in your Library in order to use it in another location.

1. Click on Add an image feature;
2. Choose the category "People", "Animals", etc.;
3. Select the desired Image;
4. Click on Save;

Now the image is part of your Library; you can insert it as a Background image in one area or another location.

Edit a modified image

Due to copyright, WebSelf editor can only display images in the original version, not
amended.

If you would like to make changes to a modified background image, you can apply these modifications with another editing program such as Adobe Photoshop.

Once your image is edited, upload it from your computer to your Library as a "New Image".