Depending on your activity, you can add audio files on your site (e.g. music, original compositions, interviews or other types of audio content.

To add Audio, go to "Media" on the left side of the editor; drag & drop the Audio icon to the desired location on your page.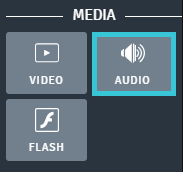 Upload audio

To upload your audio file, click Upload audio file or drag and drop the file. Once the file is uploaded, you can rearrange the order of files by dragging and dropping.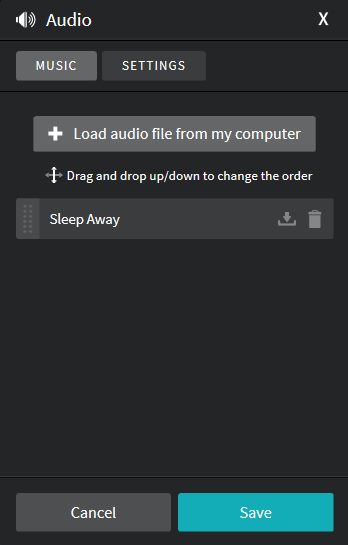 To change the name of a file, simply click on the Name and enter a new one.
To allow visitors to download audio files, click on the 

icon.
To delete a file, click on the Recycle bin icon.

Settings

In the Options section; your options are: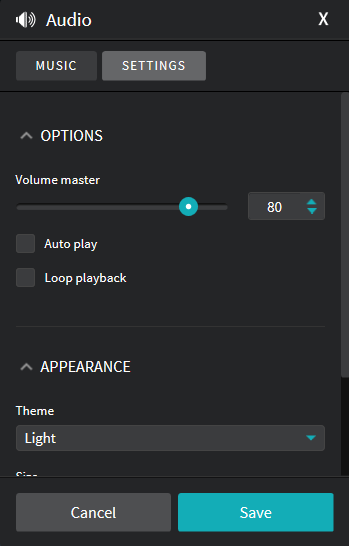 Volume master: You can set the default volume for your MP3 files.
You also have different options like Auto-play or Loop playback.
Auto-play: Set your files to be played automatically as soon as the page is displayed.
Loop playback: Set to repeat the audio file continuously.
Note:
Do not just assume that your visitor necessarily wants to listen to your music.
The auto-play feature is not always recommended.
Shuffle: Check this box for the audio files to be played randomly.
In the Appearance tab, you have the option to choose a Theme, Size and Color.
Theme: Set the theme (light or dark);
Size: Set the size for the audio player (small or large);
Color: Set the color for the audio player that suits you the most.