Optimize your site for a better visibility on search engines
Many people begin to consider optimizing their website after completion. However, you should begin this process as soon as you begin to develop your content—as this will serve as very important criteria for search engines crawlers.

How to optimize my site?

WebSelf offers you the opportunity to add other ¨Metadata¨ to help your SEO. The optimization based upon the content of each page.

Access the toolbar and click on Page. Then left-click to choose the page you want to optimize, and select the SEO settings option.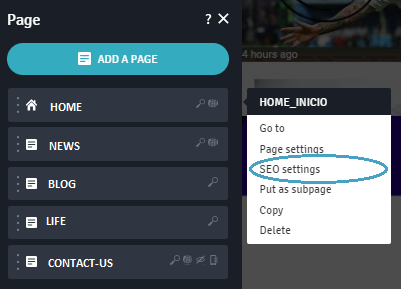 The "SEO Settings" tab displays.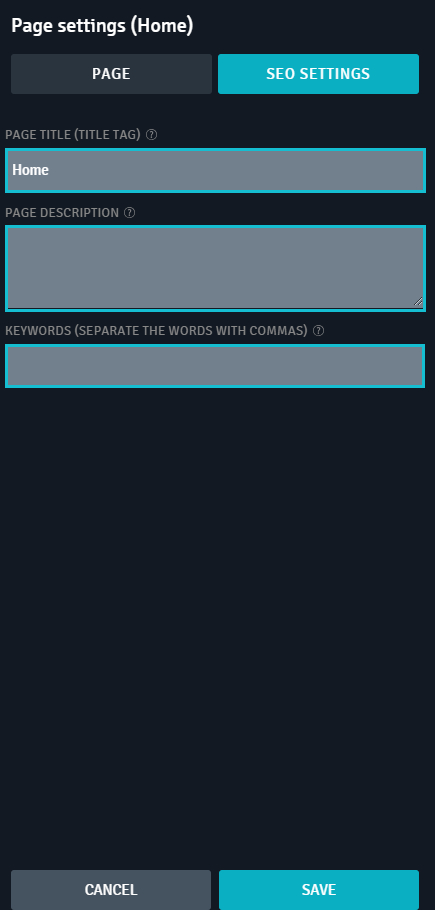 The text entered in the Page title field (Title tag) will appear on the top bar and the web browser tab.
The text entered in the Page description field (Meta description tag) will appear in the results of search engines.
The Keywords or phrases entered in the Keywords field (Keywords tag) will be associated with your site by search engines.
Clic on Save.
Click on the Page tab to get the following options: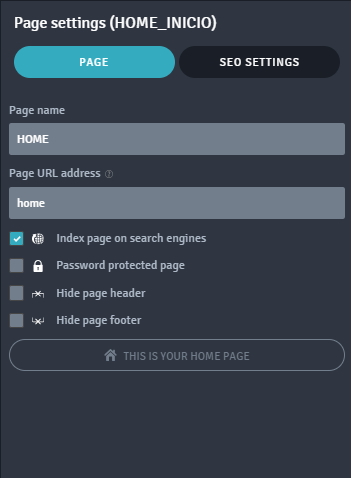 Page URL address field: customize the URL of the page.
Index page on search engines: choose whether to index or not the page on the search engines.
Clic on Save.
Site Optimization: More key points to remember
● Domain name

Your domain name should be as specific as possible and closely related to your industry. The best thing is to choose a name that contains the keywords by which you want to be found on search engines .The title is also visually important as it provides a benchmark for visitors.

Example: Cityflorist.com is a generally accurate domain name, but when you consider the millions of florist websites, it is not specific to your business.

NewYorkCityFlorist.com is much more accurate URL and contains key words to accurately find your site. Such a domain name indicates that you are in the floral industry, your store called City Florist, and you are located in New York.

● Title pages

The Page title (Title tag) is the first information analyzed by search engines and is the most visible. It is displayed on each entry in search results, and should precisely and concisely describe your page. The most important Page title of your site is the homepage title.

So take the time to add a relevant title on the SEO Settings tab when you add a page to your WebSelf site. The Title field of the page (Title tag) is also a way to have additional keywords to boost the SEO of your pages. The title of your page should be short and correspond as closely as possible to the content. It is better to use a different title for each page and change it regularly.

● Customizing the URL

The URL address of a page is the web path for your page. The URL is based on the name of the page. For SEO purposes, you can change this, as it is best to use strategic keywords in URLs.

The full URL address of your page will look like this:

http://www.YourSite.com/URLAddressofYourPage.ws.

So choose a URL that contains specific keywords or terms for the destination page.

Try to limit the length of your URL so that it is easier for your visitor to remember.

If you change your URLs, you'll have to redo all the links that direct to this page on your website or on your partners' websites.
● Page description
For a page description, you can enter a brief summary of your page. This description will appear on search results pages.

TIP:
The description should be short and condensed, but must be written in the form of a readable paragraph. This should contain between 70 and 160 characters. Important keywords can of course be included, but they must be integrated into a complete sentence and not as a list.

● Keywords

Keywords are specific words or phrases that power search engines in locating websites online.

You should carefully consider the keywords you choose to direct queries on search engines like Google. Place yourself in the shoes of potential visitors unaware of your website—what would they type as a word or phrase to locate your site?
Compile a list of essential words, word combinations, and phrases.
Choose your top 10, and only focus on the best selections.
The length of the keywords tends to expand over the years. It is therefore imperative to target this type of query, which usually include 4 to 6 words, because they are often less competitive and help achieve better results faster.

Try writing your web content with a keen focus on your best keywords. These keywords should be included in the title of your website and page, site, or page description, as well as your URL addresses.

TIP:
Google Trends is a tool to determine the volume of requests by keywords or phrases. Type in your top 10 keywords divided by commas. Google will generate a graphic of keyword statistics on its search engines to identify distinct keywords in your target region.

These keywords should be included in the title and description of your site and in the URL of your pages, modules, and titles of your content.

Example: You hesitate between the word pregnancy and maternity, but while comparing these words, Google Trends reveals that motherhood is much more frequently used than pregnancy.
● H1 tag

The H1 tag has long been an example of an influential ranking factor and important signal to search engines to determine the content of a page.

On a web page, the titles introducing the content in HTML are reported by h1, h2, h3, h4, h5, and h6, and have two main purposes:

- Summarize the paragraph content for readers

- Indicate the most important information on the page to the search engines (Google algorithms weigh keywords and phrases contained in the title more than those within the rest of the content).

At WebSelf, an h1 tag is added when you select the main title page (via a Title element) and an h2 tag is added for other titles.

Important:
It is recommended to use no more than a maximum of ONE H1 tag per page; otherwise you risk being penalized by Google.

● Alternative text (ALT attribute)

This element is extremely important for the SEO of your website's. Alternative Text is a description of the visual nature of the contents of an image on a website. In case that the image is not displayed properly due to a screen-reader for the visually-impaired, server overload, or connection issue, or if the image can't be viewed by a crawler, the alternative text will be displayed instead and the information won't be lost.

When you add a new image, the Alt Text field is presented instantly. Simply fill it out with a description for your image.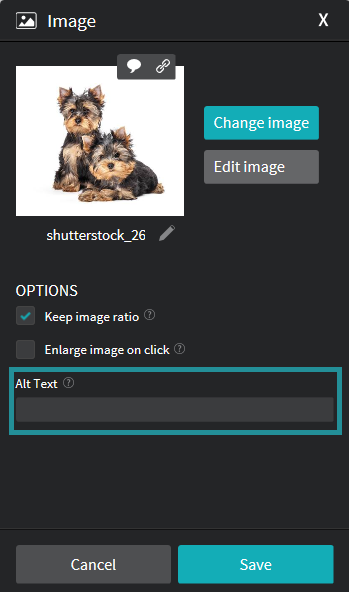 ● Favicon

A favicon is a visual icon representing a website. Browsers use the favicon in the address bar, title bar, bookmarks, tabs, and other shortcuts.

Use a favicon to help strengthen your brand image. Insert your logo as favicon or choose one from our wide selection.

You can access this feature by clicking on the Settings tab, then click on the "General" and then click on the "General" and Favicon.



Note:
The Favicon feature is available only on WebSelf premium plans.

● Robots.txt

The robots.txt is a text file placed at the root of a website allowing you to give instructions to search engines crawlers indicating the pages that can be indexed. It is also used for SEO.

To add a robots.txt file, access the Toolbar and click on Settings, then on 'SEO' on the menu bar on the left. The 'Yes' field is checked by default.

Changing the content of the robots.txt file can harm your SEO.

Do not modify the content of robots.txt unless you are an experienced Webmaster.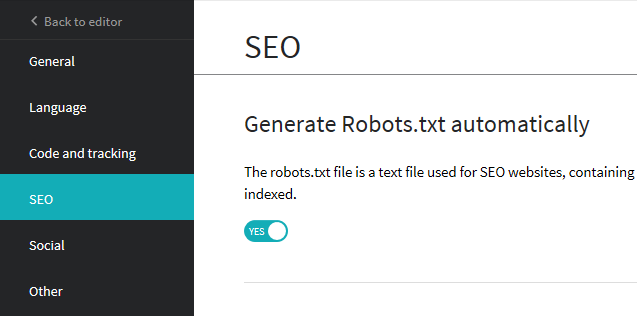 ● Sitemap

A sitemap or site plan is an XML file that is used to signal the pages of your site to search engines. In summary, an XML Sitemap (commonly called Sitemap) is a list of the pages of your website. It is generated automatically, but you can always modify it.

It is recommended to always add a Sitemap to help your SEO.

To add a sitemap, access the Toolbar and click on Settings, then on 'SEO' on the menu bar on the left. The 'Yes' field is checked by default.

If you choose not to automatically add your sitemap, you will need to add your sitemap manually as you add new content on your site. Be aware that mishandling the content can render the file invalid, causing it to be unusable by search engines. Do not modify it unless you are an experienced Webmaster.

You have also the option to list or conceal the hidden pages in the sitemap.