What is an SSL Certificate (HTTPS)
All WebSelf sites have been converted to HTTPS. Hypertext Transfer Protocol Secure (HTTPS) is the secure protocol by which your browser communicates with the sites.
When using a HTTPS site, the data is encrypted and authenticated and therefore secure.


Benefits of using a certificate
The personal information of your visitors is encrypted and therefore more secure.

Many users are more comfortable shopping online and sharing their personal information when visiting secure sites.
Google ranks HTTPS sites more favourably. Converting your site to HTTPS will therefore improve your SEO.

Implementation of the SSL Certificate
IMPORTANT: You have notyhing to do, WebSelf takes care of this step.
If you buy or transfer a domain with WebSelf, you will receive an e-mail from the SSL certificate provider Amazon to approve the installation of the certificate. Once you have received the e-mail, click on the "Amazon Certificate Approvals" link: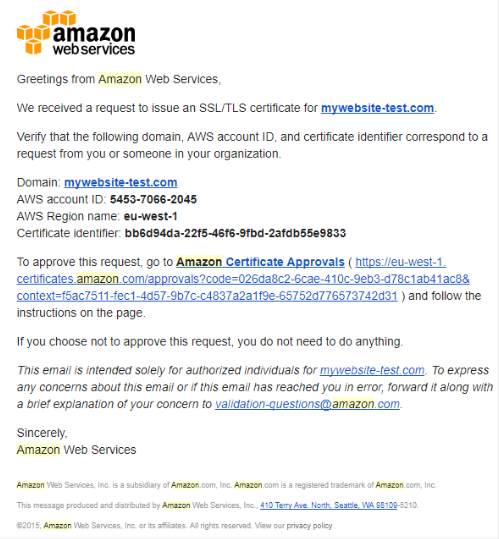 A web page will appear. On this page, just click on "I approve":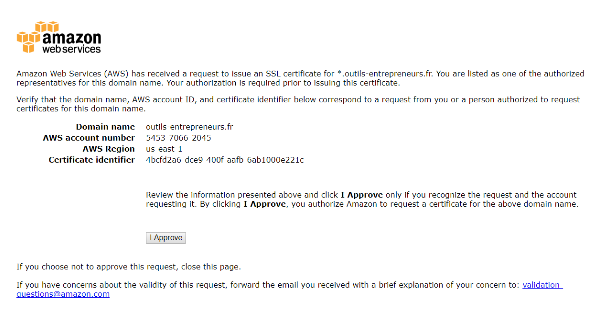 Verification and changes to make on your end.
Setting up the SSL certificate may require some verification and changes on your side.
Make sure that none of the HTML elements in your site contain links for embedded sites referring to HTTP sites. If so, update your code by adding an S behind the "HTTP" so that "HTTPS" appears in the URL address. If you have updated the code but your widgets / scripts do not work, chances are that the problem comes from the external code that does not support the HTTPS protocol.


You should re-index the HTTPS URLs of your site with Google Search Console and by resubmitting your site map.


If you are sharing your site online, be sure to send your users an up-to-date HTTPS URLs. Nevertheless we will automatically implement 301 redirects from your HTTP site to its HTTPS version.


If you're using Google Analytics, make sure you change the default URL field to https: //


 Note:
All comments and "I like" from social networks that are already assigned to your HTTP URL will be transferred when migrating to the HTTPS URL addresses. If you are replacing an existing social network such as Facebook, the Likes or comments of your social account will be reset to zero.
IMPORTANT:
If you have configured an external domain redirect to WebSelf via our IP address and CNAME record, after the migration from HTTP to HTTPS the CNAME record has changed.
You must contact us to get the new CNAME record for your domain and make the change.
This final configuration on your end is essential for the HTTPS protocol installation process to be completed.
After the change it may still be a delay of 24 to 48 hours for your domain to appear in HTTPS.
Without the CNAME record update, your domain will not display with the protocol HTTPS.